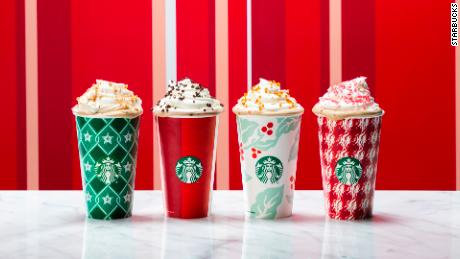 With Halloween over, the holiday season begins to get underway, and one of the telltale signs that Christmas is coming is Starbucks' unveiling of their holiday cup selection.
"We listened to our customers, ' said Roz Brewer, Starbucks" chief operating officer, according to CNN Business.
The result is 'not only retro, but true to who we are, ' Brewer said.
The "Stripes" cup features thick bands of bright poppy and dark cranberry red, accented with white pale rose gold, drawing inspiration from sealed seam that runs along the back of each bag of Starbucks coffee and "born out of the holiday feeling of boxing holiday presents and wrapping paper". You have to buy a holiday beverage, Delish said.
Starbucks 2018 Holiday Cups shown on Thursday, October 25, 2018 in Seattle. In response, one critic posted a video that went viral, saying the company removed "Christmas from their cups because they hate Jesus".
In 2015, for example, the company introduced a plain red holiday cup, ending a string of designs that featured more explicit holiday symbols, such as ornaments and reindeer, dating to 1997.
"We learn from everything we do in our stores", she said.
Back then, Starbucks told the New York Times that it would leave it up to customers to interpret what was on the cup. For those who prefer the red cup, Starbucks has a reusable version that saves the planet and spreads a little Christmas cheer all year round.
They've kept a couple of classic flavors, like Peppermint Mocha and Gingerbread Latte, and are debuting a few brand ones, like Sugar Plum Cheese Danishes, and Pistachio Honey Croissants.