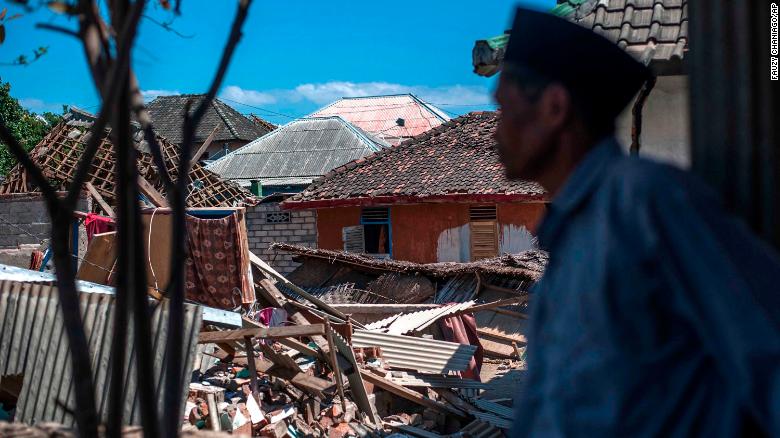 The Indonesian island of Lombok has been hit by a strong quake, as it still reels from the impact of Sunday's tremor.
Many people used the word "selamat" - meaning "to survive" - as they wrote about the magnitude 7.0 quake, which, CBS reports, killed at least 131 people.
Lombok was hit a week earlier by a 6.4 quake that killed 16 people.
Thousands of tourists have also left Lombok since Sunday, fearing further earthquakes, some on extra flights provided by airlines and others on ferries to the neighbouring island of Bali.
A 5.9-magnitude quake aftershock struck at a shallow depth in the northwest of Lombok Thursday, the US Geological Survey said, even as relief agencies raced to find survivors among the wreckage from Sunday's quake.
It said it didn't have the potential to cause a tsunami.
Reuters witnesses reporting on the aftermath of Sunday's quake in the north of the island said buildings and walls that had already been weakened collapsed, and people ran out onto roads even as rocks tumbled down from hillsides.
The government says more than 1400 people were injured and more than 156,000 displaced.
BMKG's quake and Tsunami Center had recorded 362 aftershocks after Sunday's natural disaster.
"I visited villages yesterday that were completely collapsed", he added, while other teams in East and North Lombok had reported villages where 75% of homes were damaged.
There is a dire need for medical staff and "long-term aid", especially food and medicine in the worst-hit areas, government officials said.
"Access is tough, because the quake [on Sunday] was so strong and paralyzed a lot of buildings", said Husni, a spokesman for the International Federation of the Red Cross who like many Indonesians goes by one name.
The Indonesian Red Cross said it had set up 10 mobile clinics in the north of the island. More than 1,000 schools have been damaged, the organization said.
One aid agency, Yayasan Plan International Indonesia, has warned that thousands of children have been left homeless, forced to sleep in open fields without warm clothing or blankets.