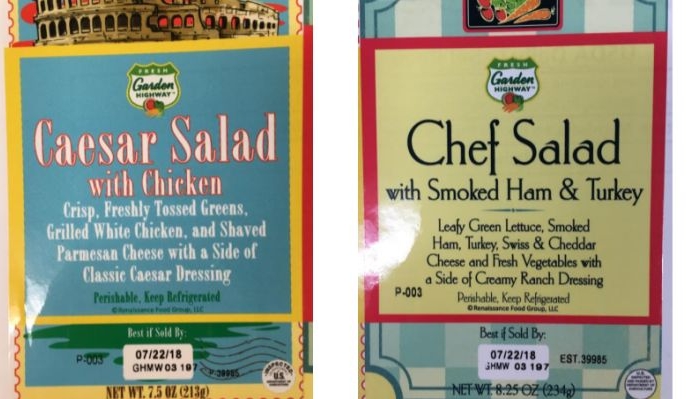 On Monday, a public health alert issued by the U.S. Department of Agriculture's Food Safety and Inspection Service advised certain beef, pork and poultry salad and wrap products might be contaminated with cyclospora.
They are being recalled amid fears of Cyclospora contamination from chopped romaine sold to Caito Foods from their lettuce supplier, Fresh Express.
The potentially affected items were produced between July 15-18, with a "best by", "enjoy by", "best if sold by" or "sell by" date ranging from July 18-23, according to the FSIS.
The salads and wraps were sold at popular stores such as Trader Joe's, Walgreen's, and Kroger.
The products recalled from Walgreens include the Santa Fe salad with chicken, Asian salad with chicken, chicken Caesar salad and the chef salad with ham and turkey.
Anyone who has purchased the products is encouraged to throw them away or return them to the store from which they bought them, according to the USDA.
The infection is caused by Cyclospora cayetanesis, an intestinal parasite, according to the FSIS. The products will also include the establishment number "EST". It can also cause loss of appetite, weight loss, stomach cramps or pain, nausea, gas and fatigue, the CDC added. Cyclospora can have an incubation period of up to two weeks, so illnesses could surface up until August 6, according to Food Safety and Inspection Service. Cyclosporiasis can be treated with antibiotics.
No illnesses have been reported. The lettuce was supplied by Fresh Express.
Caito Foods recently drew unwanted attention in a multi-state salmonella outbreak tied to recalled pre-cut melon that sickened 77 people in nine states.