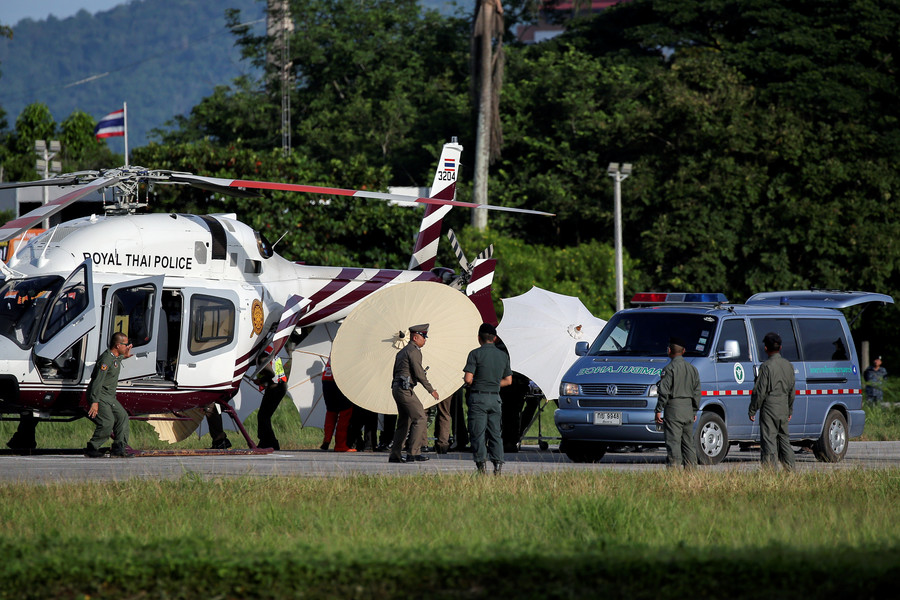 Their parents have seen them through windows but have not yet been allowed to hug them.
"Everyone is strong in mind and heart", he said at a news conference of officials involved in the high-risk rescue effort.
Most of the boys rescued from inside a flooded cave in northern Thailand lost an average of 2 kilograms (4 pounds) during their ordeal, but were generally in good condition, a senior health official said on Wednesday.
Public health inspector Thongchai Lertwilairatanapong said the boys and their coach "took care of themselves well in the cave".
None of the first group of four boys to emerge has a fever, and the two boys that had lung infections are improving.
The complex mission for global and Thai divers to guide the boys and coach through the cave's flooded and tight passageways riveted people worldwide.
The 12 boys, aged between 11 and 16, and their coach became trapped on June 23 when they were cut off by floodwaters while exploring the cave.
Another video released Wednesday by the Thai navy SEALs shows one of the boys being lugged through part of the muddy cave on a stretcher while covered with a silver thermal blanket.
"FIFA's priority remains the health of everyone involved in the operation and we will look into finding a new opportunity to invite the boys to a Federation Internationale de Football Association event to share with them a moment of communion and celebration".
Saman Gunan was a retired Thai navy diver who was volunteering in the rescue efforts.
At U-Tapao civil-military airport in Rayong province, near where the Royal Thai Navy operates out of Sattahip Naval Base, Thai navy SEALs and some foreign military personnel were given a hero's' welcome when they touched down on Thursday.
The rescued group are all now recovering in hospital.
Police officers took photographs of each other at the massive cave entrance, as pumps continued to suck out huge volumes of water. "At this time, now that the coach is out, just wait until he gives any statements and let's just wait altogether and find out at the same time", he said in an interview.
On Tuesday evening, coach Ekkapol Chantawong, 25, was the last man out.
"They had less than five meters' visibility, fought harsh currents and used a buddy system of two divers for each boy rescued".
They discovered the group on a ledge surrounded by water after nine days trapped underground.
"The bravery and heroism I've witnessed is incredibly inspiring, so, yes, this will be a movie for us", said CEO and co-founder Michael Scott, who lives in Thailand part-time and was on the scene of the rescue.
"My job was to transfer them along", he said, adding the "boys were wrapped up in stretchers already when they were being transferred" and were monitored at regular intervals by doctors posted along the kilometres-long escape route.