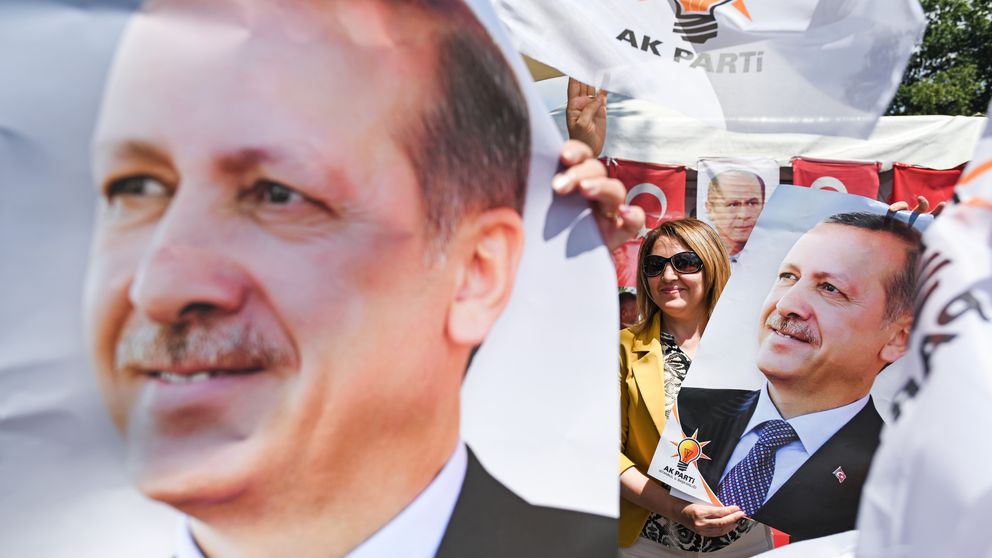 Turkish President Recep Tayyip Erdogan was on Sunday leading a tightly-contested presidential election in early counting as he seeks a new mandate in the face of a revitalised opposition and weakening economy.
Tezcan cited results he said came from the Supreme Election Council, which showed only 39 percent of ballots had been counted, and that Erdoğan had won 51.7 percent of the vote thus far.
In a speech as the final votes came in, Mr Erdogan said: "The Turkish public has mandated me as president according to unofficial results".
In the parliamentary contest, the AK Party had 43 percent and its MHP ally almost 11 percent, based on 90 percent of votes counted, broadcasters said.
The victor of the presidential race is set to assume extraordinary new powers narrowly approved in a referendum past year that was marred by allegations of fraud.
Supporters waving both AK Party and Turkish flags.
By midday, Turkey's incumbent President Recep Tayyip Erdogan and other presidential candidates had also cast their ballots.
"Things will get better from now on".
Erdogan has just under 53 percent in the presidential poll while Ince, of the secular Republican People's Party (CHP), was on 31 percent, state-run Anadolu news agency said, based on a 96 percent vote count. If the pro-Kurdish Peoples' Democratic Party (HDP) wins seats by polling over the 10 percent minimum threshold, the AKP will struggle to keep its overall majority.
The pro-Kurdish HDP has seen nine of its lawmakers and thousands of party members arrested by the government and says more than 350 of its election workers have been detained since April 28. "I hope nobody will damage democracy by casting a shadow on this election and its results to hide their failure".
For the first time, bedridden voters - more than 17,000 - are being visited at their homes by election officials who will pick up their ballots.
Turkey is gearing up for early presidential and parliamentary elections.
Sunday´s vote ushers in a powerful new executive presidency long sought by Erdogan and backed by a small majority of Turks in a 2017 referendum.
Investors would welcome the prospect of a stable working relationship between the president and the new parliament, although they also have concerns about Erdogan's recent comments suggesting he wants to take greater control of monetary policy. Ahead of the election, he took steps to abolish the position of prime minister and transfer all of the position's executive power to himself.
Sunday's elections are putting into force a stronger presidential system, allowing the president to form the government, appoint ministers, vice presidents and top bureaucrats, issue decrees, prepare the budget and impose states of emergency.
Erdogan, 64, is seeking re-election for a five-year term and the governing Justice and Development Party, or AKP, is vying to retain its majority in parliament.
After the voting ends, ballots cast for the presidential candidates will be counted first.
That system, designed by Erdogan and the AKP, would weaken parliament and the judiciary and strengthen the president's authority.
The opposition CHP and IYI parties, along with the ultraconservative Felicity Party (SP), formed the diverse Nation Alliance to challenge Erdogan in the parliamentary polls.
Turnout in the presidential election was nearly 88 percent, according to the figures published by Anadolu.