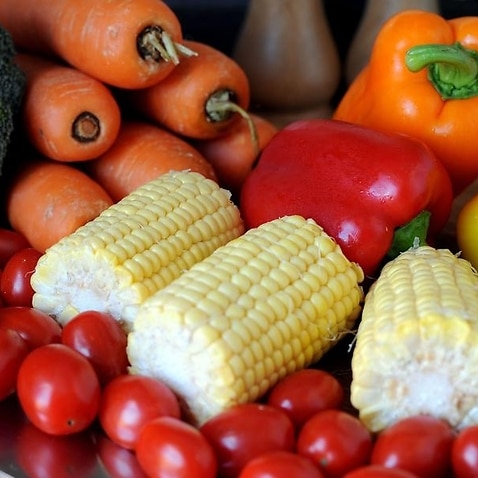 Granted, the broccoli latte (or "broccolatte") test may have been more of a marketing ploy for the powder than an actual menu development initiative, with one customer of Melbourne's Commonfolks Coffee telling Nine News that the drink tasted like "a bowl of green, milky mush".
Incorporating more vegetables into the diet can be hard, especially for children, but a new powdered broccoli that can be stirred into other foods and drinks may be the answer.
Bunches of broccoli deemed too imperfect in appearance to be stocked in shops have been ground up and turned into a powder by Australian government science agency CSIRO and agriculture group Hort Innovation.
There is approximately one serve of broccoli in every two tablespoons of powder, and Hort Innovation Chief Executive John Lloyd said the powder would appeal to those seeking healthier lifestyles and parents who struggle with children who are fussy eaters.
A broccoli latte brewed at the Common Folk cafe in Melbourne.
Smoothies, baked goods and soups are a few options to consider if wanting to mix the super food with your daily meals.
"Research shows the average Australian is still not eating the recommended daily intake of vegetables a day, and options such as broccoli powder will help address this", Lloyd said in a statement.
As part of a research project that aims to reduce vegetable waste, they made a decision to grind unused broccoli at grocery stores into powder.
The lead researcher, CSIRO's Mary Ann Augustin, said the broccoli was high in protein and fibre, and health-promoting bioactive phytochemicals, making it an ideal candidate for powder development.
The next steps, Dr Augustin said, are to take the powder into further product development and consumer sensory evaluation trials.
It's been produced by Australia's chief research organisation, the CSIRO and Hort Innovation, using a "combination of selected pre-treatment and drying processes" that help to keep the flavour, colour and nutrients from broccoli.
"Australians don't eat enough vegetables and farmers across Australia will have access to an alternative market whilst improving farm yields and sustainability", he says.
John Said, managing director of Fresh Select, a leading broccoli producer, sees the project as the emerging new food trend.