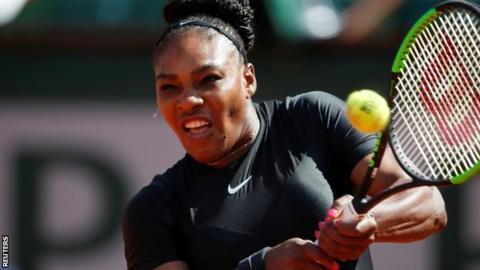 "The fact that I physically can't serve at all is a good indication that maybe I should just go back to the drawing board and stay positive". Now she's into her first Slam quarterfinal since the 2016 Australian Open, and this is probably her best tournament since the return from the doping ban-no matter how you look at it, that is some serious progress.
"I feel like a warrior in it, like a warrior princess kind of, queen from Wakanda", she said, channeling "Black Panther", the recent box office smash.
"It's very hard because I love playing Maria", the 36-year-old said. 'This is a little different.I'm clueless as to what to do'.
In it she said the American has "thick arms and thick legs" - and claimed Williams cried after the Russian won Wimbledon in 2004.
Serena Williams is withdrawing from the French Open with an injury.
Some have suggested that Serena shouldn't have entered the doubles competition with her sister.
"It was a shock", Thomas Hogstedt said.
Sharapova had a 2-19 record against Williams.
Elsewhere, in the men's draw Rafael Nadal, still on course for an 11th Roland Garros title, faces Germany's world number 70 Max Marterer. And there was the complete third-round domination of 11th-seeded Julia Gorges to set up Monday's meeting with Sharapova.
Anderson twice served for the match, at 5-4 in the third and fourth sets.
After losing in the first round of the Miami Open to Naomi Osaka in March, she did not play on tour for almost two months, choosing to focus on improving her fitness and honing her game at her coach Patrick Mouratoglou's academy near Nice, France.
"I honestly didn't think I played badly", said Wozniacki, who won the Australian Open in January. So it's just, like, I think it would be more shocking if I wasn't in tears.
"I couldn't have imagined I'd have come back so soon after giving birth and I needed 9-10 months before I was ready". "You know the challenge that is upon you. It's just the way of my mind".
Serena Williams has pulled out of the French Open, marking a disappointing end to days of hype surrounding her match-up with Maria Sharapova.
Sharapova certainly would have preferred to beat Serena on the court, something she hasn't done since George W. Bush's first term, but she'll be thrilled with this result nonetheless.
Former champion Garbine Muguruza reached the last 16 for the fifth successive year with a comfortable 6-0, 6-2 win over Australia's Sam Stosur.
During a press conference over the weekend to preview Williams' canned match against Maria Sharapova - scheduled for Monday but cancelled, with Williams pulling out of the French Open due to injury - Inside Tennis reporter Bill Simons threw several cringeworthy remarks towards Williams.