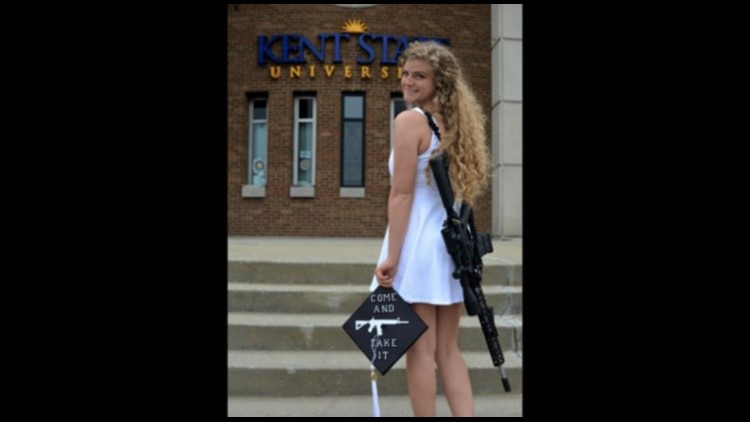 A former Kent State University student and her rifle went viral after graduation photos showcased an AR-15 strapped to her back while walking through campus, but the school has no issue with her shot thanks to a well-timed loophole.
Bennett sent out a follow-up tweet to clarify she was holding an AR-10 rifle, not an "assault rifle", after many lashed out at her.
Kaitlin Bennett, a 22-year-old Second Amendment supporter from Zanesville, Ohio and founder of Liberty Hangout, a libertarian student media outlet at KSU, posed in front of the Kent Student Center for the tweet that has gone viral.
She added that she should have been able to carry as a student, especially after the 1930 Kent State shooting when four students were killed by Ohio National Guardsmen.
The images were posted to Twitter and went viral.
Bennett advised Fox Information she needed to sentence the varsity's "insulting" insurance policies. "I discover it insulting that the varsity values the lives of their company greater than these attending the college for 4 years".
Kent State policy says students are unable to carry any "deadly weapons", but now that Bennett has graduated, she is no longer restricted and can carry.
The college has a rule towards college students, school, and employees carrying "lethal weapons". Mansfield said they were taken Sunday, the day after graduation. The university has a full-time, certified police force of more than 30 sworn officers who protect the campus. She took major backlash online, including death threats from people who thought the picture was in incredibly poor taste.
She explained that now that she's a graduate of the university, "I can finally arm myself on campus".
In another, she wrote: 'I have no apologies for my graduation photos.
In one other tweet, she made it clear her gun is an AR-10 and never an "assault rifle" as many had claimed. "As a lady, I refuse to be a sufferer & the second modification ensures that I haven't got to be".