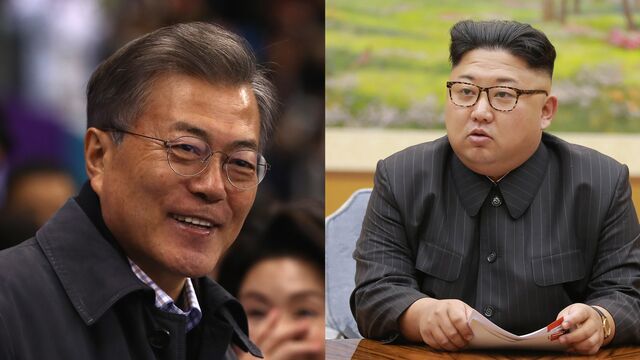 Talks are underway about a possible visit by Xi to Pyongyang in June after the inter-Korean summit and North Korea-US summit, the Yomiuri Shimbun reported Monday, quoting Chinese and North Korean sources.
After meeting North Korean leader Kim Jong-un in Pyongyang in March, South Korea's national security adviser and spy chief said Kim was committed to denuclearising the Korean peninsula and had expressed a willingness to meet US President Donald Trump.
China, North Korea's traditional ally and biggest trading partner, has backed global sanctions against the reclusive regime over a series of nuclear and missile tests by the North, which had frayed their relations.
North Korea responded after months or years of confrontation, agreeing to take part in the PyeongChang Winter Olympic Games held earlier this year in South Korea.
North Korea and China continue to warm ties ahead of Pyongyang's planned summits with Seoul and Washington, with North Korean leader Kim Jong-un hailing Chinese art troupe's visit to Pyongyang as "significant".
During started after this high-level dialogue was the date for the inter-Korean summit on April 27. During negotiations, agreement was reached on holding a meeting of leaders of the two countries.
He added it will likely focus on issues of denuclearisation and peace on the Korean peninsula, and an improvement in relations not only between the two Koreas but also with other countries including the United States.
The peninsula remains bisected in a perpetual stalemate, with the USA -backed South Korean military lined up against more than a million North Korean troops.
While the previous inter-Korean summits were held in Pyongyang, the April 27 summit is set to be held on the South Korean side of the joint security area inside the demilitarized zone that divides the two Koreas. US officials have said those talks would focus on denuclearizing the North.
Kim and Chinese President Xi Jinping agreed during their first-ever summit in Beijing in late March to promote cultural exchanges.
No peace treaty has been signed to replace the 1953 armistice that ended the Korean War, and the USA and North Korea have been at loggerheads since formal hostilities ended.