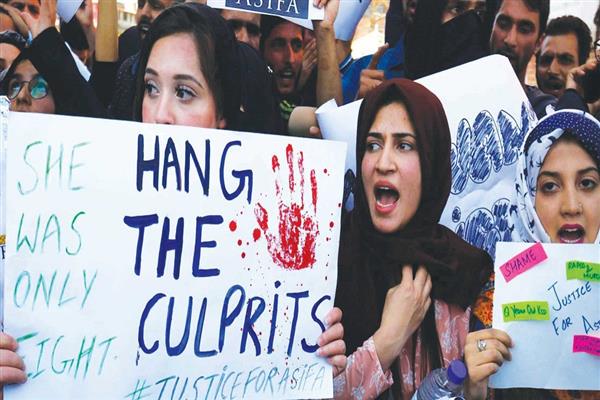 The official version is that a reshuffle has been in the works for some time now but clearly, the political stakes have changed dramatically after protests over the horror of an 8-year-old being raped and murdered in Kathua.
The BJP high command has been receiving complaints that the party ministers in J&K were non-functional and allegations of corruption were made against some of them.
Senior BJP leaders said by rallying behind the supporters of the alleged rape-and-murder accused, the ministers has damaged the real reason for which they were voted to power in 2014 Assembly elections - securing interests of people in Jammu region.
While Singh embarked on a roadshow earlier today, the BJP's state unit later in the evening asked all its nine remaining ministers in the two-year-old government, led by PDP's Mehbooba Mufti, to tender their resignations to enable the party to bring in fresh faces in the state government.
The two ministers who resigned from PDP-BJP government on Saturday are Chaudhary Lal Singh and Chander Prakash Ganga.
The incumbent PDP ministers include Chief Minister Mehbooba Mufti, Abdul Rehman Veeri, Ghulam Nabi Lone, Abdul Haq Khan, Syed Basharat Ahmed Bukhari, Chowdhary Zulfkar Ali, Naeem Akhtar, Imran Raza Ansari, Mohammad Altaf Bukhari, Javaid Mustafa Mir, Tassaduq Hussain Mufti, Asiea Naqash and Zahoor Ahmad Mir.
The two ministers had supported the demand for a CBI enquiry into the gang rape and murder of the Bekarwal girl. The former forest minister said Mufti has failed to gauge the popular sentiment. Jammu and Kashmir can have a maximum of 25 ministers, including the CM.
She appealed Prime Minister, Narendra Modi to take lead in getting Jammu & Kashmir out of this bloodbath and help these people in leading peaceful and normal life.
There was no need to resign had the media not created such a perception, the BJP leader said. "We have not done anything wrong", Singh added.