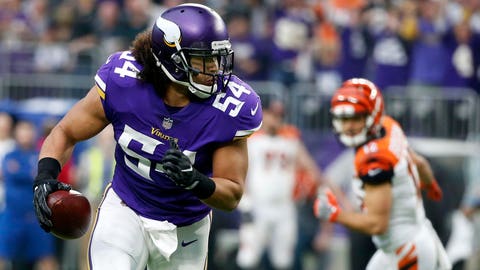 Much of that has come in the way from the stout defense that the front office has constructed.
The Minnesota Vikings locked up standout middle linebacker Eric Kendricks to a multi-year extension, the team announced Monday.
ESPN reported the deal is worth $50 million over five years, with $25 million guaranteed.
He started in all 16 regular-season games and both postseason games previous year, recording 113 tackles with one sack, one interception and one touchdown.
On the day they welcomed players back into their building for the start of offseason workouts, the Vikings ushered one of their linebackers into a new tax bracket. He had a team-high 113 tackles in 2017.
One of the most important pieces from the Minnesota Vikings' league-best scoring and yardage defense is sticking around long term. Like Kendricks, Barr has become a huge part of their defensive identity and figures to be a key piece to their long-term outlook. The two are part of a defense that was ranked No. 1 in the National Football League last season.