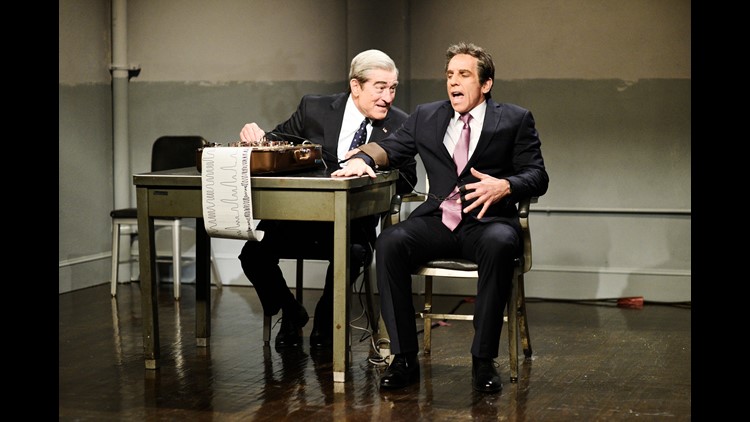 "Saturday Night Live" continued its cavalcade of big-name guest stars playing figures in the day-to-day drama of the Trump administration this weekend by opening with a reunion of "Meet the Parents" stars. Despite this, Trump wasn't pleased, often taking time to bash "SNL" and Baldwin during his Twitter outbursts.
Hollywood stars Ben Stiller and Robert De Niro both made appearances on this week's episode of Saturday Night Live, which depicted the interrogation of U.S. President Donald Trump's lawyer Michael Cohen by Federal Bureau of Investigation director Robert Mueller. "Why don't you have a seat", De Niro said, before hooking up Stiller to a lie detector test in a throwback to the film "#Meet The Parents" that both men co-starred.
As the interview got underway, Mueller asked Cohen about everything from Stormy Daniels, to the golden showers tape, to whether he's ever threatened anybody.
Mueller then begins asking Cohen a series of questions, and when Cohen denies that Trump knew about a $130,000 hush payment to porn star Stormy Daniels, the machine makes loud noises to indicate that he's lying. "Did you say milk?" So what?" What followed was an homage to an exchange familiar to fans of Meet the Parents, as Cohen argued that you can milk a lot of things, including a "cow, or a goat, or a... cat.
"Really, I have nipples, can you milk me Mr. Cohen?"
Trump's codename apparently used to be "Putin's little b-h", but is now "Stormy's little b-h".