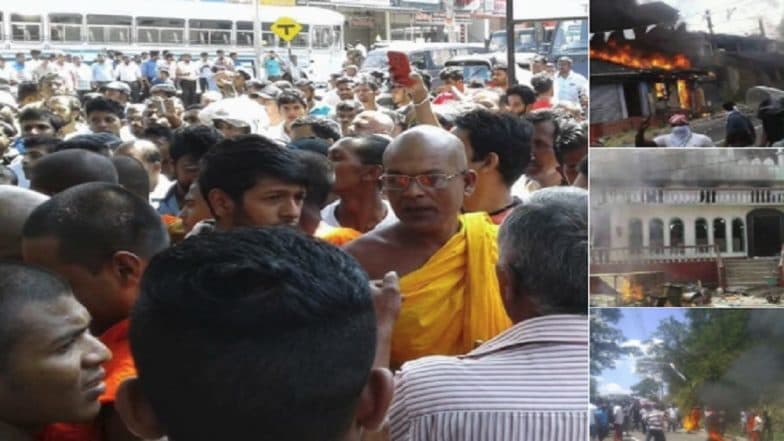 Sri Lankan cabinet on Tuesday made a decision to declare a State of Emergency for seven to 10 days.
Sri Lankan police on Tuesday re-imposed a curfew in parts of Kandy city after clashes triggered by racial violence erupted between two groups.
It is to note that Muslims in Sri Lanka comprise 9 percent, Buddhists comprise 70 percent and ethnic Tamils comprise 13 percent of the total population. A 24-year-old Muslim boy has died due to his house being set alight overnight and he managed to save his parents and sibling but could not save himself.
Images shared on social media show widespread damage to Muslim areas of Kandy, with stores and businesses destroyed and buildings vandalized.
Since the turn of the century, a number of reports have appeared in Sri Lankan press saying that the birth rate among Muslims of the country was higher than those among Sinhalese Buddhists.
The government has promulgated emergency to bring the situation under control but whether it has the willpower to take the headliners among majority Buddhist community, head on, is still not clear. Police said two dozen people had been arrested following the riots and remanded for two weeks.
Government spokesperson Rajitha Senaratne said that the curfew has been extended to prevent further violence.
Lakshman Kiriella, a lawmaker from Kandy, said in Parliament that the attacks were "carried out by outsiders".
President Maithripala Sirisena has declared a State of Emergency for one week with effect from mid-night yesterday, to redress the unsatisfactory security situation prevailing over certain parts of the country.
"The deputy inspector general told us to tell the Muslims to stay at home and close up their shops in the Digana town", Mr. Bathiudeen said.
Prime Minister Ranil Wickremesinghe also ordered an investigation into alleged police inaction in handling the clash.
The government called on the local population "to act with responsibility and remain calm".
He said some people were instigating violence through Facebook and warned of tough action against them. After the Tamil rebels were crushed in a military offensive in 2009, the Emergency was finally lifted in August 2011. At 11:00 am, there was a proclivity for violent confrontations to take place as mobs gathered.