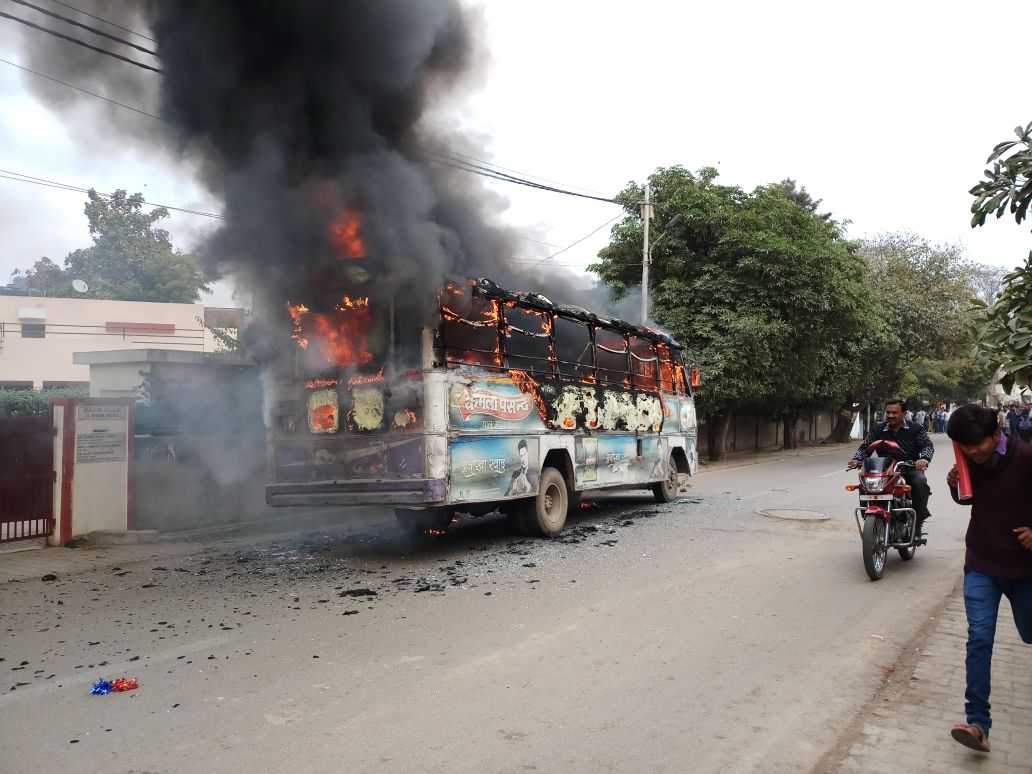 Saroj, who was rushed to the hospital, succumbed to his injuries on Sunday.
The incident came to light on Sunday when a passer-by who had recorded the assault on his cellphone shared it with others.
The video, shot on a mobile phone reportedly by a passerby, shows the victim, Dilip Saroj, lying unconscious on the steps of the restaurant where the incident took place last night.
A group of students shouted slogans, pelted stones and torched a bus in Uttar Pradesh's Allahabad city on Monday to protest against the death of a 26-year-old Dalit student.

Law Student, 26, Beaten To Death Outside Restaurant In UP, Horror On Video
A waiter at the restaurant, Munna Singh Chauhan, has been arrested and two policemen have been suspended. They involved in a minor argument with other men present at the hotel.
Based on the footage, the cops have arrested one accused.
On the basis of a complaint lodged by Dileep's brother, an FIR was registered against three unidentified accused, Senior Superintendent of Police (SSP) Akash Kulhari said. Then the owner along with nearby peoples drive away the injured Saroj on the motorcycle to the hospital. He said, "We had gone for dinner at Kalika restaurant". After dinner, we were sitting on the stairs that lead to the restaurant. "I was hit with chairs too, but I managed to escape", said Prakash Singh, one of Dilip's friends and an eyewitness in the case. Three people came, pushed us, abused and went to the restaurant on the first floor.
The prime accused was identified as Vijay Shankar Singh who is posted as a Train Ticket Examiner (TTE) with the Indian Railways, Kulhari said, adding that the accused is still at large. Later, the group called in more people and dragged Dilip and his friends - Siddharth Gautam, Samir Kumar and Mahesh Kumar - outside the restaurant and beat them up.