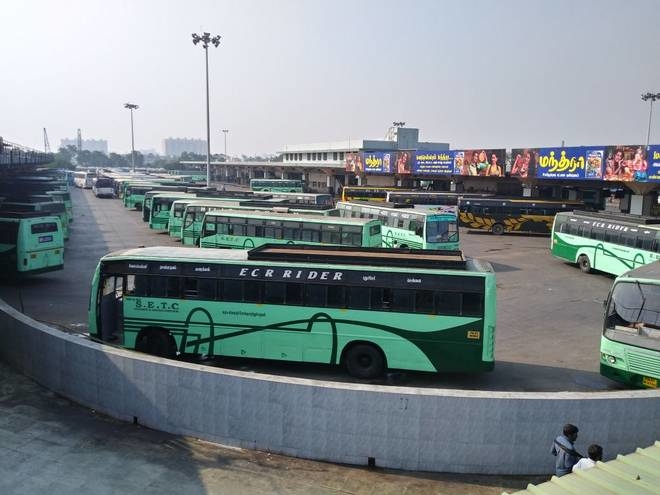 Sounderrajan, who held discussions with other trade unions, including the DMK-backed Labour Progressive Federation (LPF) today, urged the government to hold talks to settle the issue amicably, even as he expressed regret over difficulties caused to commuters following the strike.
Chennai: The indefinite strike by Tamil Nadu State Transport Corporation employees since Thursday night throws normal life off balance as commuters were left to depend on private buses and vehicles which chose to go for the kill by jacking up fares, particularly inter-state buses. In a detailed statement on the government being amenable to workers' demands, Vijayabhaskar pointed out that the Madras High Court has ordered that the strike is not legal.
Admitting the plea, the court said, "The transport workers provide essential public utility services".
"Any worker refraining from attending to work or performing duty shall do so at their own risk of the consequences thereof including termination of their services and penalisation for gross contempt of this court", the bench said.
The rights are ensured by the state through a machinery of functionaries including the transport workers, the court said. The court intervened following a PIL filed by a journalist who wanted the strike to be declared illegal.
In Chennai, union members belonging to the AIADMK ran a skeletal bus service, driving in "mufti". "It is the highest increase in the wages compared to the previous settlements".
He said for employees who entered service after 2013 and up to 2016, it was made a decision to give a special increment of 3 per cent. Chief minister Edappadi K.Palaniswamy held a meeting with ministers to discuss the issue.
The trade unions are demanding an increase in their wages as per the 2.57 multiplication factor so that the basic pay of the transport employees would be on a par with permanent state government employees, at Rs 19,500 a month.
Further, seven unions had joined the strike today, taking the number to 17, he added.
The strike began on Friday after talks between the unions and the authorities failed to end the stalemate.